Rajendra Kumar YS aged 82, better known as YSR Uncle, is a retired AGM at SBI , currently serving as the Honorary Treasurer of the Karnataka Jain Association. He took up running at the age of 74, which made him happier and more active, and enjoys it the most. Many middle-aged and elderly people have taken up running as a result of his inspiration. We are extremely fortunate to have him running with us.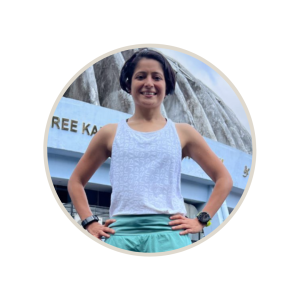 Deepa Nayak is a running enthusiast who also enjoys hiking, yoga, and strength training. Her running career began in 2014 with a corporate event, and now it is a deeply ingrained passion and an essential component of her life. She ran the Berlin Marathon in September 2022 with a 3.18 marathon personal best thanks to her relentless effort. According to her, success is a result of proper nutrition, functional strength training, agility, mobility, and stability exercises, but most importantly, a positive attitude.
       Dany Saran works for the Indian Air Force and is a runner by passion. He started running in 2017 as a way to inspire others to do the same and get fit and healthy and now runs 20-25 kms everyday.He competes in ultramarathons for India as a national level athlete. At the IAU 100km world championship held in Berlin in August 2022, he broke the Indian 100 km record with a time of 7 hours 25 minutes. He urges everyone to continue running until their heart stops beating.
       Sulatha Kamath aged 72, is an accomplished veteran athlete who has won numerous gold and silver medals for India. She was always interested in athletics, but until lately she wasn't able to pursue it due to family and financial constraints. She completed her first half marathon in 2006 when she was 56 years old. After this, there was no turning back.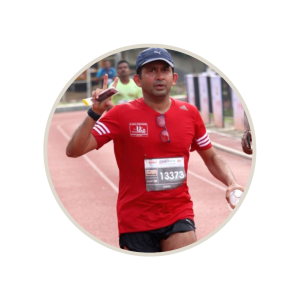 Girish Mallya based in Mumbai is a media professional and a endurance runner for 25+ years. He has completed multiple marathons, multi-stage self-sustaining ultra marathons & triathlons. He is the only person to have done all 17 editions of Mumbai full Marathon and the first Indian(male) to have successfully completed Marathon Des Sables (MDS), one of the toughest footraces in the world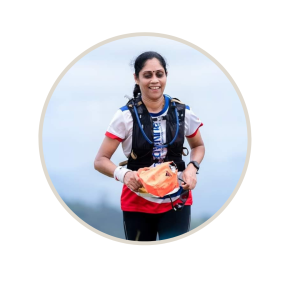 Sandhya, an educator by profession, began running in 2015 so she could travel with her husband on marathon tours. She made her debut with the TCS 10k in Bengaluru . In the beginning, she used the walk-run method to increase her endurance. She is a member of the highly motivated Bangalore running group "RunAddicts – Rise to run." Some of the events she has participated are Mumbai Marathon, 12 Hour Stadium Runs, Malnad Ultra, Vagamon Ultra, Bangalore Mysore Intercity Run (2 Days), Bangalore Sakleshpur Intercity Run (5 Days). Her family currently has four runners which makes the activity more exciting. Running helps her stay charged throughout the day.